Why Should You Trim A Tree Or Prune A Shrub?
All plants and trees are different and some may grow too big for the space they are in. If they are not cut back, this can introduce safety issues for your home or your neighbor's home if they continue expand. The certified tree trimming experts at Fortune's Lawn, Land & Tree Service know how to properly trim trees to make them safe and look good on your property.
Tree trimming keeps your trees looking their best, but also helps them grow healthier and stronger. Our skilled professionals can trim your trees without damaging them or potentially introducing diseases.
With over 15 plus years of experience on Marco Island, Fortune's Lawn, Land & Tree Service know what it takes to have clean, lush landscape.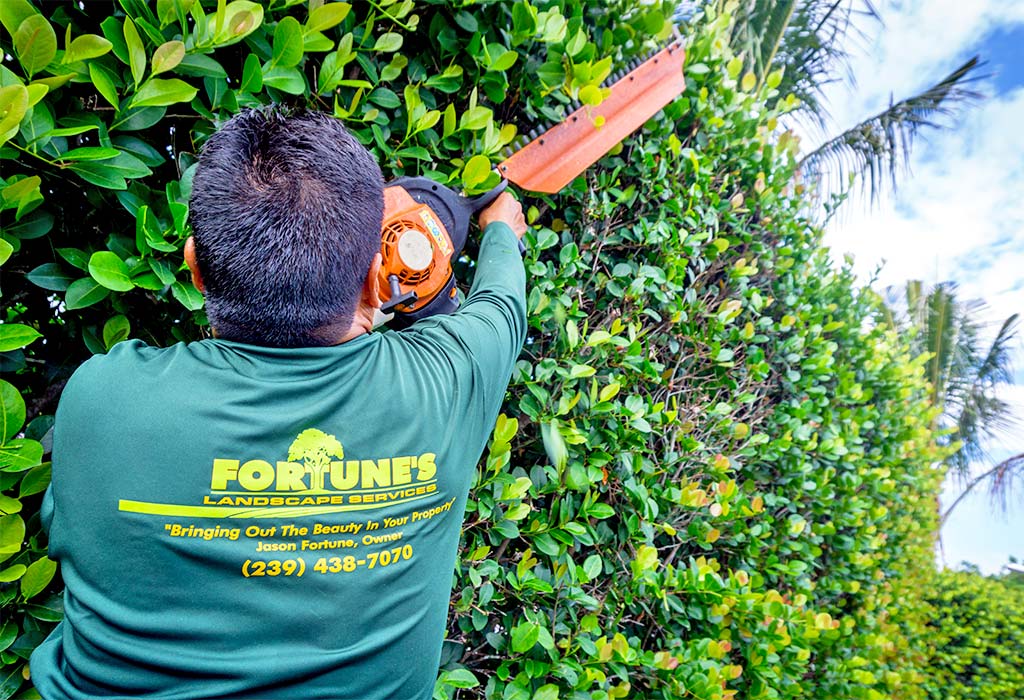 Hedge & Tree Trimming: More Than A Beautiful Lawn
Hedge and tree trimming isn't just about landscaping aesthetics; it's also about the health of the plants and safety to you and your home. Our team of experts will determine the types of trees and/or hedges you have on your property and the types trimming required. We will also inform you on how often the trimming needs to occur for the plant's specific needs.
Fortune's Lawn, Land & Tree Service keeps your landscape lush and green with our top quality work that's completed on time and within budget. Our highest priority is that our customers are happy with their investment.
Jason did a wonderful job on my landscaping! He came when he said he would had great people working for him and was very reasonable. Many of my neighbors have stopped to comment on what a beautiful job he did. I would highly recommend him to anyone needing lawn care or new landscaping.
Fortune's did a terrific job pruning my overgrown bushes and palm trees. Jason came out to provide an estimate the morning I called and his crew showed up to work the next day as promised. The crew was professional, courteous, and did a beautiful job. I look forward to working with Jason and his company again!
We started using Fortunes in 2017, when they took on customers of Island Tree Service, Marco Island. They are friendly and responsive to our needs, and do quality work. After Hurricane Irma, they were super busy, but did a great job of removing trees, stumps and replanting for us. Highly recommend!
Working with Jason and his team has been great. He was very professional during the quoting process and we made a deal for work to be completed with a gentleman's handshake. He completed the work perfectly in the timeline he said he would. I highly recommend working with Fortune's Landscape Services!
I highly recommend Fortune's Lawn Care Services to anyone in the area. This company not only does high quality lawn work, but also provides priceless customer service with reputable workers. My yard has never looked greener, healthier, and cleaner. I wish I would have found this lawn company sooner!!
FREE Consultation On Your Tree Trimming or Hedge Pruning
No Project Is Too Small Or Too Big
We have the team, qualifications and tools to meet your commercial and residential tree trimming needs on Marco Island.